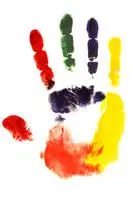 Art Therapist -
Samantha is an artist, art teacher and art therapist working on her professional counseling degree. She is enrolled in the Ph.D. in Art Therapy program at Adler University. Samantha has focused on Children and Adolescents who have experienced Trauma, and believes that the healing process from Trauma that takes place through art therapy and the form of play.
Samantha's internship consisted of working with traumatized children through intact families, Glen Oaks day school where there was a diverse population of diagnosis, and Clarius Center where she is involved in working with children and adolescents that suffered from anxiety, depression, ODD, Intermittent explosive disorders and PTSD.
Her professional interests include: furthering the field of art and play therapy through education, treatment and research, expanding access to art therapy in the school setting, and promoting positive psychology in the church through the arts. Samantha believes that with art and play, therapists can have a better understanding of an individual and their experiences.
Samantha's clinical approach involves narrative therapy, play therapy, art therapy, individual psychotherapy and the unconscious art process through psychoanalytic. She has experience in curriculum development, program development and education management.
We are committed to your privacy. Do not include confidential or private information regarding your health condition in this form or any other form found on this website. This form is for general questions or messages to the practitioner.